With our Visual Identity Packages, you'll…
Stop looking unprofessional, and add value and credibility to your product or service.
Focus on what you do best, and let your investment in branding produce the results your business needs.
Gain a power-packed toolkit of unique brand assets that visually communicate what you want your brand to say.
Stop chasing a pack of freelancers, spending a lot of time (and money!), and still not getting the results you need.
CUPID HAS WORKED WITH OVER 100 SMALL BUSINESSES
And a few of the corporate bigwigs as well. But at the end of the day, our favorite people to work with are the crazy passionate small business owners. And we're dedicated to helping them look just as big and badass as the corporate competition.
CUPID TAKES THE HEADACHE OUT OF THE CREATIVE PROCESS
We're kind of a mythical breed of creatives: Type A and totally into the business side of things. Our process is straightforward and efficient with zero surprise costs and easy, flat rate pricing. Best of all, we deliver on time. You'll know what and when to expect as we guide you from start to finish.
STRATEGY FIRST, DESIGN SECOND
We've got three words for you… Return. On. Investment. After all, you're not just doing this for fun, are you? Strategy is at the heart of every brand we create and every project we tackle. We identify your unique brand value, and we design solutions that are powerful and memorable.
BRANDING PACKAGES TO FIT THE NEEDS OF EVERY BUSINESS OWNER.
NOT EVERY BUSINESS IS THE SAME, SO NOT EVERY NEED OR BUDGET IS THE SAME.
Each collection of services has been packaged with the utmost thought and care to ensure you walk away with confidence in your brand, a top-quality end product that will serve your business for a long time to come (because timeless is waaay better than trendy), as well as a fun and stress-free experience.
Branding Packages Starting at $1,997
Each Package Includes brand activation pieces
Print
Letterhead & Envelope
Informational Brochure (1 page)
Wholesale Line Sheet (1 page)
Press / Media Kit (1 page)
Marketing Postcard
Hangtag Design
Digital
Powerpoint Template (6 pages)
Social Media Headers
Social Media Post Templates (3)
Instagram Cover Stories (6)
Logo Video Intro
Basic Mailchimp Email Template
Cupid's Brand Identity Design Process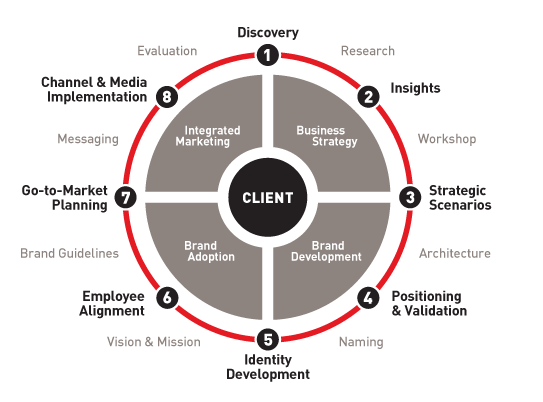 Frequently Asked Questions
How can I be sure I'll like what you design?
A branding project involves a lot of information gathering: notes and conversations with you, along with reviewing visual examples to get your feedback before anything is designed. We'll discuss your business, history, goals, audience, competitors, brand personality, and more. This will set parameters and guide the design process. Since you're involved in setting those parameters, you can be confident your brand identity will be something you love.
How picky should I be when getting a logo for my business?
Very. Your brand identity—which includes your logo—is the visual face of your business to the public. People can't help but form an impression of you based on what they see, and your logo is the most commonly used visual that represents you. Not only should it be well-executed technically, but it also needs to have the right style.
How do I know we're a good match for each other?
Not to sound like we're dating here, but compatibility is important. Take a look at my graphic design portfolio. Does it have the general style you're after? You need a designer whose work matches the aesthetic you're aiming for. You might love how a designer presents their work, or they have a great reputation, or you genuinely like them as a person. But if their body of work doesn't feel like you could imagine your project fitting in, you should look elsewhere. Designers can design in different styles, but their own unconscious preferences will act like a magnet pulling the design back to their sweet spot. Which hopefully is a reason you selected them in the first place.
I need a logo and I already know exactly what I want it to look like. I just need someone to make it. Will you help?
In this case you are the designer, and you simply need a technician who can execute your idea using computer software. I bring strategic thinking as well as execution to a project, and that's more than you're looking for. I'm not the right fit.
Book Your Brand Discovery Call